Reddy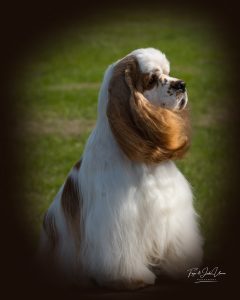 Click on a photo for an enlarged version.
Reddy is an outstanding young boy with a beautiful plush head, tons of forechest, short back, solid topline, wide driving rear, correct tail set, tons of coat and great movement!
Reddy was out once as a baby puppy at five months of age and won Best Baby Puppy in Group under judge Barbara Heal.  Reddy then went to the Scarborough Kennel Club shows when he was 11 months old and won a total of three points.  He was winners dog under judge Lee Ann Bateman and then at the Limited Breed Group 1 show he went bests of winners under judge Dana Marcela Garcia Tice from Mexico.
However due to Covid Reddy has not been at another show, but we are looking forward to when he can compete again and complete his Championship.
Reddy is patella's OFA normal, Thyroid normal, eyes clear and is a PRA carrier.
Reddy is loved and spoiled by his co-owner Maureen Brosnahan of Clanagroe Cockers.
Swipe left to view the entire pedigree.